WUMB and Berklee College of Music Summer Concert Series
August 6th, 13th, 20th, and 27th
This summer WUMB and Berklee College of Music brings you the 4th Annual free Summer Concert Series, featuring players from UMass Boston and Berklee College of Music. Four Saturdays of unforgettable music in August!
Located at beautiful Castle Island, South Boston, these free concerts are the perfect way to spend your Saturday afternoons. Bring a blanket, a picnic basket and your love of music!
Castle Island
2010 Day Boulevard
South Boston, MA 02127
Get directions
Concert Line-Up
Saturday August 6th 2pm - 4pm
Amber Blue Acoustic (UMASS Boston) was formed in 2013 by two Bostonians, Ciara and Michelle, that have a love and passion for the many country, pop, rock, and anything thing in between, artists and music teachers that have inspired them on their musical journey.
Pauline Parga (Berklee College of Music) bio coming soon.
Saturday August 13th 2pm - 4pm
The Sunset Kings (UMASS Boston) is a six-piece band featuring vocals, guitar, bass, drums, violin, and saxophone to create an indie sound influenced by blues, jazz, R&B, as well as 60's rock and prog, strung together with soulful vocals and infectious melodies.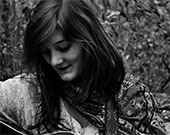 Emotional, evocative, warm & natural, firmly rooted in Americana with pop and country stylings lightly layered on top. This describes Kathryn Hallberg's music. Kathryn (Berklee College of Music) is already an experienced musician, having been songwriting and performing since the age of 11. Kathryn has honed her skills on stage and sold out her recent CD release show. She is currently pursuing a degree as a Songwriting major at Berklee College of Music in Boston, MA.
Saturday August 20th 2pm - 4pm
Olive Marie (UMASS Boston) was born by the bays of Boston, MA and is a sultry Jazz, Disco, Jangle Pop, Fusion songstress currently pursuing a degree in music performance at University of Massachusetts Boston. Kevin Strang began playing the double bass in 5th grade with the school orchestra in a suburb of Cleveland, Ohio. Bradford Bleidt is jazz pianist who cut his teeth during explosive fusion days of the 1970's and continues to develop a multi-faceted style with jazz, rock, and, blues influences. He has been a member of the UMass Jazz Ensemble and currently pursuing a MBA at UMass Boston.
Singer-songwriter, guitarist, acoustic and electric bassist of the city of Medellin, Colombia, Naty's (Berklee College of Music) music is a sonic journey of merging the rhythms from the Andean mountains in Colombia with jazz and sonorities from world music. She has toured different cities of Colombia as well as Mexico, D.F. and Boston. Currently she is attending Berklee College of Music.
Saturday August 27th 2pm - 4pm
Binky (UMASS Boston) is a Psychedelic rock band from the South Shore of Massachusetts. With influences spanning many genres, Binky combines fuzzy, spacey guitars, and visceral, high volume live performances to create a unique blend of blues, punk, surf, and psychedelic rock.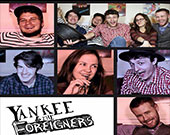 Yankee & The Foreigners (Berklee College of Music) was formed by a group of friends attending Berklee College of Music, who gained attention as a group by busking in the streets of Boston's Back Bay. In a quick flash of improvised creativity, Sam, the British kangaroo/lemur, declared their band name was "Yankee & The Foreigners" to an inquiring promoter. Though the name came quickly, Y&TF took many months developing and honing their sound, wanting to retain the folk elements that made them popular in the streets, but also hoping to incorporate a shared love for edgier sounds. Finding their personal blend of these two styles, they embarked onward to writing and performing, finishing their debut EP Don't Wake Me Up midway through their first year together.